If you have yet been introduce to Daniel Martín of Granada, Spain then I might say you've been hiding under a rock for some time. Daniel Martín, aka Bigote, is part owner of net label Caballito. Comprised of Bigote and partner Grita, Caballito's effort to push the boundaries of music and art has thus far been very successful, predominantly on two fronts. First is Martíns graphic design prowess.
In 2010, Bigote Sucio was making the mixtape and album covers for his label, which in itself isn't that far fetched except for the fact that they were ahead of their time; super clean, original and animated gifs!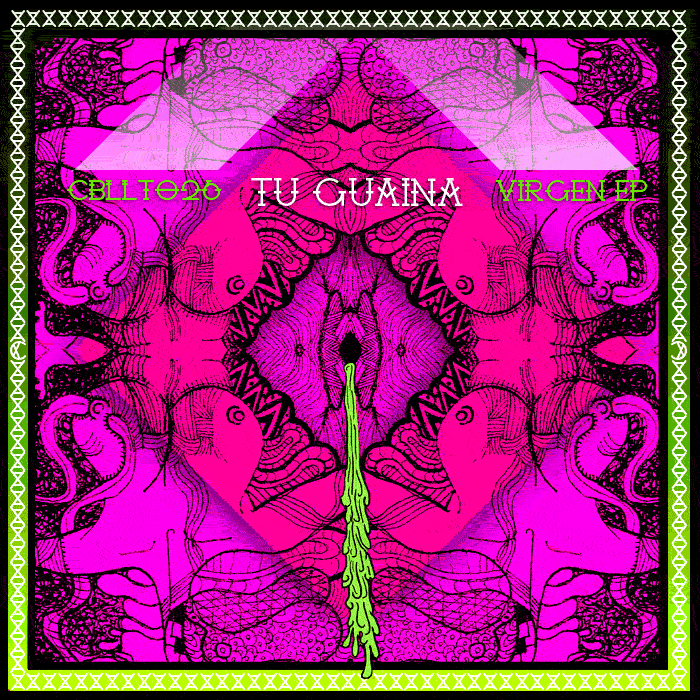 What really caught my eye was Bigote's
other art projects
. I was drawn to the similarities of Bigote's work to that of Spanish painter and sculptor Joan Miró. I'm a big fan of Miró and was even once bestowed a Miró lithograph which hangs nicely over a piece of art I purchased from Bigote. Bigote's version of surrealism is very appealing to the (my) eye; comfortable bold lines, minimal use of color, hints of imbalance and 4D. That's why I'm very pleased to have collaborated with Bigote on the cover for Radio Peligrosa #8.
"El sonido de Caballito refleja el calor, la alegría, las raíces, las ganas de mover el culo, el sudor, la buena onda…" – Caballito
The traditional Latino-American rhythms mixed with Digital Cumbia and electronics Bigote and Grita use in their own production is also prominent in the releases from other artist's on their label; all under free license as is their philosophy. On their website they use the term "re-folklored" (who doesn't love when an adjective becomes a verb) when describing what a performance of theirs looks like. From the visuals to the sounds, one can start to draw an image in our mind of what these varying styles of art and music must look like in real life "re-folklored".
Or, I suppose you can indulge on half of that experience, ladies and gentlemen Radio Peligrosa #8. Dalé Play.
Tracklist
Uli K – Sensación
Zutzut – Pazuzu
Lao – Talisman VIP (Bigote Remix)
Gronos1-Slow Hum III (Bigote Remix)
Al Tariq x Drippin – Mizuchu (Bigote Remix)
Boris Viande – Night, part 6
Monarka
Dinamarca – Zorna
Bigote – mordotek
Tetuan
Ynfynyt Scroll – Sueltate el Dembow
Chico Sonido – Niñas Fresas (Grupo Jejeje Varrio Remix)
Endgame – Destiny Riddim
Viní – Bandida Arlequina
Ynfynyt Scroll – Hace Calor
Bigote – Alien Flutes
Kid Cala – Damnbow
Lechuga Zafiro – Clitopad Riddim
Batungo – Siete Catorce X Bison X Squareffekt_
http://caballito.org
http://bigotesucio.com
https://www.facebook.com/bygotesucyo
https://www.instagram.com/bigotesucio
https://twitter.com/bigotesucio