Caballito.org has been releasing mixes, compilations, EPs and LPs that i have been enjoying for quite some time now.  I wanted to merely share a couple of my favorites from said releases, then i found an email address so i decided I'd reach out and ask a few questions that had been on my mind.
There's already proper information about Caballito on their website: CABALLITO.ORG
Caballito is two people at it's root, a man named Grita and a gentleman named Bigote (I thought Grita was a woman and apparently that happens some times) . They've known each other for years (more than 12 they say), meeting in Madrid one night at an event that featured pop music.  Years later, 2010 and living in Granada, Spain, they began planning a project, at first it was jokes but its now turned into something quite serious indeed.

The two will tell you that the name Caballito has no meaning to them, they wanted to pick a name with that exact purpose (which i suppose it does have meaning then, idk).  They promote and produce in many styles but one is a style which they've began calling Graveton. They describe it as a style that mixes reggaeton, dub, dustep and rap while mixing in the invented bastardizations of Cumbia of their own liking.
On top of having a unique sound, Bigote has made sure the art that accompanies the music is equally tantalizing.  Animated /gifs, neon colors, freaked fonts all amalgamate to entice the user beyond just a download link. With no plans of stopping any time soon, they have almost 14 releases on their net label. Although the 'scene' in Granada may not be visible to a lot of the locals, it is very visible to Peligrosa.
Listen to this here while you read:
Dumbia y Graveton 2.0 by el timbe
Interview:
(The reply's are in Spanish fyi, there's a google translate button on the top right)
So I've read your previous interviews and i'd like to stay away from some things that you've already answered.
Hello Grita and Bigote how are you?
Bigote: Bien, pensando en que decir y terminando un flyer para la siguiente fiesta en Granada junto a El Timbe…
Grita: Bien gracias, y lo siento pero no soy una mujer, ojalá! Hay mucha gente que lo piensa, será por que no aparezco en las fotos.
What is Caballito? A duo of artists? A Label? A company? What are all the things you do for Caballito?
Bigote: Todavía no tenemos muy definido que somos, ya que montamos fiestas, producimos, tenemos el label y pinchamos. Lo que si tenemos claro que no somos una empresa y que lo hacemos por amor a la música y por divertirnos.
Grita: Somos todo eso y más, somos unos tíos muy majetes que nos gusta la yerba y la pizza.
You've known each other for 13 years and you have been working on Caballito for one year, How has it been working together over this last year?
Bigote: Pues ha sido divertidísimo, a veces cansado, ya que sin quererlo nos hemos metido en miles de proyectos y aventuras que en algunos momentos se nos van de las manos. Pero juntos hemos hecho un buen equipo y poco a poco hemos ido definiendo nuestro papel en Caballito. Antes de Caballito nos veíamos poco, no teníamos contacto pero la cumbia nos unió en el camino.
Grita: Yo he aprendido muchas cosas, muchísimas…y Caballito nos ha llevado a sitios que nunca hubiese imaginado. Mejor no contamos quién hace que, no importa.
You both produce music and have (or have had) other projects you've worked on but what/who has been an influence on the style of your music in recent years?
Bigote: Estos ultimos años antes de empezar con caballito estuve escuchando mucha cumbia, descubriendola mas que nada, ya que nunca habia escuchado este estilo ni nada parecido. Tambien venia escuchando mucho dub y reggae, pero la verdad que me gustan muchos estilos de musica para saber exactamente que me ha influenciado.
Grita: Siempre he pinchado, y escuchado música. Ahora descubro muchos grupos y producers latinos de todos los estilos que me encantan
You both use ableton, do you prefer to work in the Live view or the Session view?
Bigote: Para producir uso ableton y me siento mas comodo en la Session view. Ordenar las partes me encanta, pero con lo que mas disfruto es buscando y sampleando sonidos para el próximo track.
Grita: A mi me gusta en Arrangement veis, cuando ya esta todo listo, en la otra podría pasar días!
What is your favorite VST?
Bigote: Ahora estoy usando uno llamado speakerphone, que te simula el sonido de telefonos, juguetes y demas cacharos, le da una atmosfera graciosa al track.
Grita: Uso lo que pillo, no tengo nada favorito, bueno uso muchos sonidos 8bits que encontré por ahí…

Bigote you do most of the web and art work. I know you like photography as well. I noticed you have a lot of videos on your vimeo page. Do have plans to expand on the video side of Caballito?
Bigote: Me gusta de vez en cuando hacer un video para alguna canción interesante y me gustaría hecerlo más pero casi no tengo tiempo.  En caballito intento aplicar casi todo lo que he aprendido estos últimos años, fotografía, video, diseño y eso me encanta.
Do you have live visuals at your parties?
Bigote: Si, antes preparabamos los videos y los reproduciamos en bucle, usabamos mucho material robado de la web, videos de youtube, gif encontrados en tumblr y algunos de los artworks que usamos para la web. El resultado era un collage muy raro pero iba mucho con nuestra imagen. Ahora tenemos en Caballito a ElectroManchega Vj que es la que nos esta poniendo los videos estos ultimos meses y estamos muy contentos.
Grita: También ponemos pequeñas banderas por todo el club, una vez llenamos un club de post-its fluorescentes. Y ElectroManchega Vj es genial, muy freak y baila mucho!

You have spoken about the 'scene' in Granada, Barcelona and Madrid, over the last year have you seen the movement grow in Granada specifically and in Spain in general? How?
Bigote: Pues ha crecido desde que empezamos, en Madrid hay fiestas de cumbia casi cada semana, en Granada la gente empieza a conocernos, en Barcelona se ha juntado un montón de gente de diferentes lugares del mundo y se esta moviendo mucho también. Y lo mejor es que todos nos conocemos e intentamos apoyarnos en lo que podemos.
Grita: En los últimos tres meses hemos hecho ocho fiestas Caballito en cinco ciudades, y han habido otras muchas fiestas en Barcelona y Madrid.
El tropical bass crece!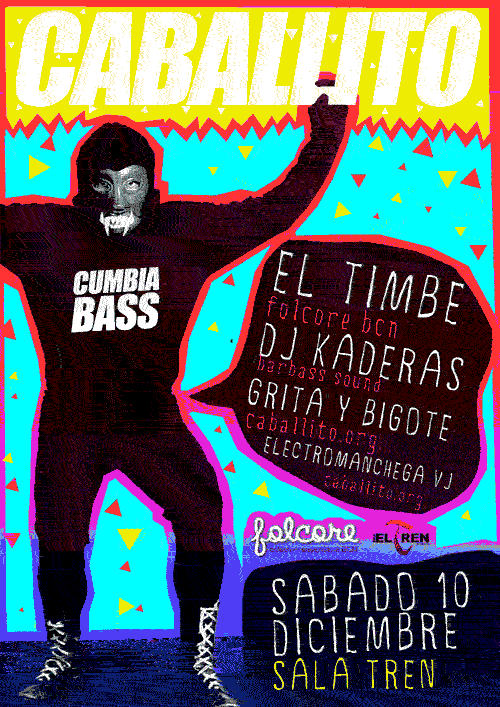 Are you throwing your own parties now? What do you call them and how often do you throw them?
Bigote: No tenemos nada estable, pero una o dos fiestas cada mes hacemos seguro, ahora que estamos separados, uno en Granada y otro en Berlin estamos haciendo las fiestas cada uno en su ciudad y no lo llevamos nada bien, nos gustaba más hacerlas juntos. Lo llamamos a veces Caballito Sound Sistema o Caballito Discoteca Tropical.

Do you two tour or travel and play as Caballito? If not, are you planning to do so? If so, where would you like to play?
B: No tenemos nada previsto de momento. Nos encantaria ir a Colombia, y ver como se vive la música allí.
G: Si hay gente que quiera bailar, ahí estaremos.
The tracks you release vary widely but you still refer to them as Graveton.  In your opinion, what is the difference between Graveton and Moombahton?
B: A veces el graveton se viste de moombahton, el dub de graveton, la cumbia en dub y así. El graveton surgió de risas pero creemos que poco a poco nos hemos ido dando cuenta que el sonido de nuestras producciones siguen una linea y eso es el Graveton.
G: En los tracks de Dani te das cuenta de lo que es el graveton, y si escuchas alguno mío lo entiendes del todo, o no, jejejeje…
You now have 15 releases on your net label, tell me a little about your process of releasing an album.
Bigote: Pues van saliendo los releases de una manera muy espontanea, sabemos que gente nos gusta e intentamos contactar con ellos y sacar algo juntos. A veces surge de la amistad con otros artistas y de la relacion que tenemos con ellos en la comunidad cumbianchera.
Grita: Cuando descubro algo que me gusta mucho, escribo al músico y espero.
En Caballito Netlabel están apareciendo releases fuera del bass sound, y que gustan mucho a la gente, eso ha sido un acierto espontáneo que le da otro sabor al sello, estamos muy contentos.
Why have you kept all your releases for free?
B: No queremos hacer negocio vendiendo musica, todos los contenidos que publicamos lo hacemos bajo licencias creative commons y es que odiamos el copyright, creemos que es un muro para la musica. Otro motivo por el que no podríamos venderla es que usamos muchos samples de muchos temas con copyright y seria meternos en un lio.
G: La música es cultura y entretenimiento, eso debe ser gratis, y que todos lo puedan compartir. Los artistas que publicamos en el sello están de acuerdo, así todos contentos.
What do you have planned for 2012? Releases? Tours? Etc..?
B: No tenemos planes, la cosa va surgiendo poco a poco y así nos ha ido bien, aunque no estaria nada mal planear una gira pero con el trabajo lo veo dificil. Ahora que me acuerdo tengo un EP listo que lo publicara el label argentino Wakale Records de Freak Castro y Dj Rüstico. Y para Caballito Netlabel tenemos un EP que se sale de la linea totalmente, sera un ep de grabaciones de campo de un artista llamando Karin Mijangos.
G: Espontaneo!
Thanks for your time, is there anything else you'd like to tell us?
Gracias a ti por interesarte por nuestro trabajo, es un placer. Tambien aprovechar para felicitarte por tu trabajo, nos encantan tus producciones!!!
Gracias Orion, fue una sorpresa recibir tu email, y que te interés por lo que hacen dos poquitos en España con la cumbia y la música electrónica.
Felicidades por tu trabajo!
CABALLITO.ORG

Bigote desde Berlin.Germany.
Grita desde Granada.Spain.
Here's an exclusive track they send along with interview! Download it here.
Here's there lastest release